Mercedes-Benz G65 AMG

Information

Type
Vehicle
Market Price
$300,000
Resale Market Price
$150,000
The Mercedes-Benz G65, sometimes called G-Wagen (short for Geländewagen, "cross country vehicle") is a mid-size four-wheel drive luxury SUV. The G-wagen is characterized by its boxy styling and body-on-frame construction. It uses three fully locking differentials, one of the few vehicles to have such a feature.
For $300,000, the Mercedes-Benz G65 offers 5 seats and a top speed of 42MPH.
"The Mercedes-Benz G65 is one of the most luxurious SUVs available in EvoCity. Suiable for all kinds of terrain, the twin-turbo 5.5-liter will get you anywhere a matter of minutes. The G65 is brilliant for all types of tasks... whether it's protecting the president, cross-country treks, or looking down on those inferior smaller cars." - Market description
Modifications
Edit
The Mercedes has 3 pre-set colours which can be selected at the BP Gas Station. These are:
White
'Distressed' White
Army Camo
It can be custom-coloured by a mechanic.
Bodygroups
Edit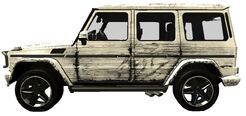 The optional bodygroup features are:
Hood light cages
Style of Spoiler
Front Bumper Style
Rear Bumper Style
Extra Wheel on Rear
Interior Screen Style
Exhaust
Mechanics are able to make modifications to each bodygroup.